CHARLES TOWN, W.Va. -- Students from Jefferson County Schools (JCS) proudly participated in the United Way of the Eastern Panhandle's Annual Day of Caring on September 13. Students across all grade levels took part in volunteer activities supporting their schools and community.
Students from the OLC helped beautify the Ranson Community Gardens. They weeded, mulched, and painted.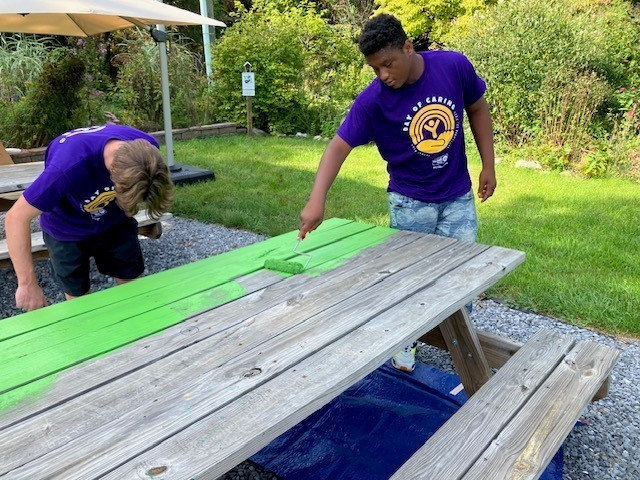 Members of the Washington High School Key Club were at Charles Towers, a mostly senior apartment complex in Charles Town. They scrapped and painted curbs, stained benches in the courtyard, hauled trash away, mopped the floors, and visited with residents. WHS Key Club students included Sara Andrick, Claire Bauer, Hollie Brandes, Ava Brenneke, Ben Caltrider, Megan Caltrider, Ashlee Cockerham, Lucy Cotteril, Laila Drummond, Henry Fesperman, Julie Fincham, Isa Fisher, Sofia Fisher, Emily Hamilton, Kayla Holloman, Chloe Jenkins, Morgan Keysor, Donald Moody, Eric Moody, Stasha Nicholas, Naia Prevratil, Emma Speakman, Katie Speakman, Lindsey Sprouse, Ian Updike, and Kiara Vega Leon.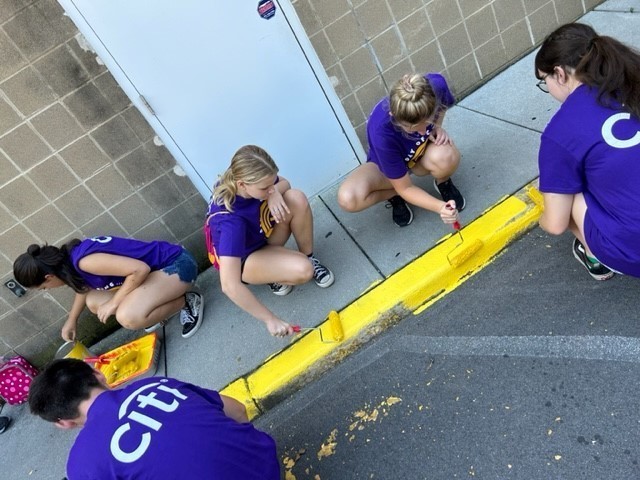 The Charles Town Middle School Builders went to Happy Retreat in Charles Town, where they learned about Charles Town's history from Charles and George Washington and their direct descendant, Walter Washington. After touring the house, the crew picked up trash along the walking trails and collected sticks from the yard. Builders Club members included Ryelle Bauer, Annabelle Bethke, Wilson Brown, Cassi Burke, Eva Burns, Jeremiah Clark, Aubree Drummond, Ava Fisher, Kristian Billock, Blake Galles, Harlin Green, Kylee Hale, Lindsay Hale, Teaghan Hugh Kong, Estella Indomenico, Owen Johnston, Helen Keysor, Aeryn Keysor, Reagan Leach, Jadyn Newman, Kaden Rodgers, Emily Sprouse, Lacie Thompson, Hayden Updike, Jackson Wheat, Ainsley Woodman, Gavin Wroldson, and Glennie Olmstead.
The KKids from Wright Denny Intermediate School also went to Happy Retreat. They enjoyed learning about the house while working to fill many bags of trash from the walking trails. They also helped clear sticks from the yard. WDI KKids include Ira Allen, Max Allen, Avery Bala, Lucas Bala, Jude Bethke, Micah Burke, Cora Clark, Gracie Danner, Karli Danner, Tristan DeStefano, Avery Dewett, Luci Fisher, Lilli Green, Reagan Greene, Juliette Hynes, Nora Owens, Harper Leach, Kenzie Lynch, TJ McNutt, Arya Messina, Kendall Osborne, Nora Kling, Yesinia Rojas, Kate Siddoway, and Keira Souvanthony.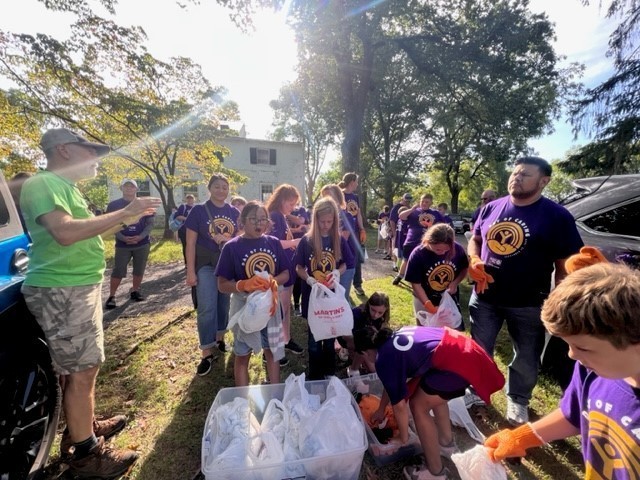 The Page Jackson Elementary School KKids were also active on Tuesday. They helped their teacher, Mrs. Walter, spruce up the outdoor classroom at their school. They weeded, planted bulbs, spread mulch, and tidied the classroom area. Thanks to Arthur Amiet, Cecelia Fenton, Zoey Azure, Hattie Bethke, Braeden Caison, Samara Chapman, Raelynn Dillow, Savi Galles, Lincoln Greene, Lincoln Hynes, Makayla Maas, McKinley McCargo, Parker McNutt, Hunter Owens, Maggie Philabaum, Ethan Rosner, Joey Speakman, and Mason Wroldson!